So, here's my #groovingmums update for Kate's
Getting your groove back
blog hop.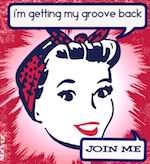 This week has been a bit 'bleugh'... can't think of a better word to describe it, sorry! I've now completed my three treats that I had lined up for achieving and maintaining my weight loss (
cupcake masterclass
, spa visit with a friend and
personal shopping
trip). I kinda feel like I've not got anything much to look forward to and despite the weight loss and feeling a bit better within myself things still aren't brilliant and I'm not sure if I have my groove back or not...
However, I suppose there is Christmas next month which I'm very excited about as my toddler seems to be starting to understand about Christmas, probably due to him being at nursery. I've also got my 30th birthday in January which I need to start planning... thinking of having a party at the house but not totally sure yet. My to-do-list just keeps getting bigger and bigger!
This week I've only managed one run on Sunday with the running club girls and I did 7 miles! A new personal best, so I'm pleased with my achievement. *mentally ticks off one of the challenges from last week!* I'm sure that by May 2012 I'll be able to run the half marathon as planned... I might even do it in a decent time!
Healthy eating wise I've been so-so. I've indulged in quite a few cakes... had a massive scone at garden centre with hubby and the kids at the weekend (it was yum though!) and I also had one delivered to the house from
Sponge
which was delicious! I've not weighed myself so I'm not sure if I'm still at my target weight or not... got my personal trainer this week so I'll find out then :-/
I've continued with my painting and decorating at the house. I'm actually just back from B&Q where I was getting some more supplies as I plan to do some more painting tonight once the kiddies are in bed!
I have been enjoying my new wardrobe and I've been making an effort to mix n'match with my new clothes and wear things that are a little bit different for me.
On Saturday night I was at a friend's new house for a housewarming party. Hubby stayed to babysit the kids so I went along on my own. I was a bit nervous... I wasn't sure if I was going to know anyone there and I was feeling rather self conscious despite my amazing new clothes. I wore my skinny jeans,
orange pussy bow blouse and my leopard print boots
and I got a few nice comments about my shoes which made me feel more confident. Aside from my friend who's house it was, I knew one other person there, but I had a fab night and met some lovely people... There was no dancing though so I failed on Kate's challenge from
last week
(unless dancing about in the kitchen with the kids counts??... maybe the neighbours can vouch for me!).
In terms of Kate's other challenges, I have shared a favourite, but sad, poem in my
Poetry blog post
and I also took part in Kate Takes 5
listography blog hop
which was harder than I thought it would be!
Yesterday I did some baking with the toddler (he licked the bowl - does that count!), and my hubby took the cakes to his work today for his staff. I was practicing my recipe for my Christmas cupcakes for the neighbours.... vanilla sponge with a gingerbread frosting... although I used pink spotty cupcake cases and heart decorations whereas my Christmas ones will be a bit different. I got a text from hubby to say that one of his staff members said my cakes were 'the nicest she's ever had' and 'well done you, everyone loves them'. So I was very pleased with that... success!
Here are the challenges set by
Kate
for this week:
1. Winter Warmth – how can you treat yourself to something that keeps you warm in this wintry weather. A new hat, scarf or pair of gloves? A pampering session involving heat? A hot chocolate every night for a week? Whatever warmth means to you.
2. Money – is it time you thought about your finances? This will mean different things to different people. Do you have debts to sort out? Do you need advice on benefits? Is it worth joining an credit union as a way to build up savings and with access to credit? Is it time you set a budget for Christmas and stuck to it? It is absolutely up to you how you interpret this one.
3. Art – How much do you know about art? Would you like to share a favourite painting with us and tell us why it appeals to you? Do you create things yourself that you would like to promote? Would you like to learn more about art and how might you do that?
4. Blogging Fun – How about taking part in Magpie Monday where bloggers celebrate bargain pre-owned finds whether located in charity shops, car boot sales, Christmas fairs, Ebay or whatever? You will find details with the lovely Liz over on the Me and My Shadow blog.
Perhaps this is the excuse I needed to buy a gorgeous hat I've spotted in a local gift shop? ;-)
Catch up with me next week to see how I got on...