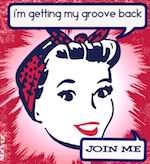 I'm linking up again this week with
Kate on Thin Ice
for her weekly #groovingmums Blog Hop. This is week #6 already, and we're now into November... where has the time gone? Grab the badge that features above and check out Kate's blog if you fancy joining in.
I've had a bit of a mixed week if I'm honest.
My dad was here last week which was lovely to catch up with him and his wife. My son adored having his granddad around - we went to the garden centre and you could here my son shouting at the top of his voice from all corners of the store... 'Granddad, where are you?'. My sister also came down for one night and we had a mini-celebration for my dad's 60th (which is actually in November, but we won't see him again until April). I enjoyed being the hostess (I used to love hosting dinner parties b.c.) and I prepared a few nibbles for our friends & family which went down a storm (big thanks to my friend Claire for the inspiration for all the canapes). We also had a day trawling round some fabric shops and I'm feeling inspired to get the sewing machine out to make some curtains for the house (watch this space!). My sister has already
made a cushion
amongst other things with the fabric she purchased (she's child-free so can get things done much quicker than me!).
Some nibbles.... healthy-ish!!
On Thursday after my dad left I had a 'Keeping in Touch' day at my work. I'm due to start back in January, but had a day of training organised. I have to admit it was nice being back, even though I spent the afternoon reading Standard Operating Procedures! I wore my
new Gok Wan dress
(size 10!) and got a few nice comments about my new slim figure.
At work....
I also had a lovely night away in a 5 star hotel with a friend. We had a day of pampering at the spa followed by a lovely dinner that we got all dressed up for...
For Halloween on Monday I took the kiddies in their pirate outfits to visit granny & grandpa and they had a lovely day. My sister-in-law also came along with her two little ones so my son had great fun playing with his older cousin.
Last night, my friend
Becky
and I went to a flower arranging course. It was a one-off 2 hour course at a local florist and I had a great time and learnt loads. I'll do a separate blog post on this, but here is a quick photo of my creation:
However, here are the negatives (thought I'd start with the positive, up-beat bit!)...
Sticking to the healthy eating has been difficult now that Maria, my personal trainer, has said I can ditch the food diary. I've had too many nice cakes with my dad when he was here followed by a weekend of indulgence... must try harder this week.
I've also not been feeling great. I've had a bit of a cold and my tummy has been a bit sore too. I've been a bit of an idiot when it came to my
Crohn's medication
. With my weight loss I should have really reduced the dose of my medication, so I've technically been taking an overdose and I've been getting some not-so-nice side effects! My own fault really. My dose has now been lowered, but it's going to take a wee while for things to settle out.
I've also not been doing much exercise... partly because I've been too busy and partly because I've been feeling a bit rubbish. I'm finding it difficult to go out running in the evenings now as it's so dark and it's not really safe to go on my own. I would go in the morning before hubby & the kids get up, but again it's too dark. I'm finding it really tricky to keep to the exercise plan at the moment and I'm feeling sluggish and a bit bleugh...
I feel like all I do is go round and round the house picking up stuff all the time and don't actually get anything done... dirty nappies, messy clothes, toys, more toys and even more toys...
Here's hoping the week picks up!