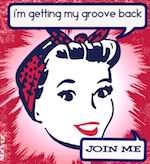 I'm finally linking up again with
Kate on Thin Ice
for her Grooving Mums blog hop. Please do join us... have a look at Kate's blog
here
where she's written a little bit about the 'rules' - don't worry, they aren't strict!!
As Christmases go, mine was pretty s**t. I started 2012 as a single parent.
1. Did you over-indulge over the festive season? What can you do to prepare for the life-changing journey ahead in terms of improving your health?
2. What do you need to change your mind about? Have you written yourself off in some way? How can you shift negative thinking patterns?
3. This week, Christians celebrate the Epiphany. Here is one dictionary definition for the word epiphany "a sudden, intuitive perception of or insight into the reality or essential meaning of something, usually initiated by some simple, homely, or commonplace occurrence or experience." What does this mean to you?
4. Are you aware of all the blogging networks you can get involved with? Is it worth you checking them out and promoting your efforts to sparkle to a wider audience?
Yes, I have overindulged this festive period! I've not been exercising, I've been eating far too many cakes and not enough fruit & vegetables, I've had the occasional glass of wine (I stopped drinking in June and hadn't touched a drop until December!) and with all the emotional stuff too I'm feeling bleugh!!! I plan to go for my first run of the year tomorrow... I'm doing the Edinburgh Half Marathon in May so I need to step up my training. I'm running for Macmillan Cancer Support
in memory of my mum
who died of ovarian cancer 10 years ago. We've set up a
Just Giving fundraising page
if anyone would like to make a donation (no pressure, but thought I'd mention it just in case).
Despite all the negative things that have happened this past month, I am still making positive steps and looking at changing my mindset and way of thinking. I had started a support group with
Kelly Menzies
just before Christmas and I'm looking forward to the group starting up again this week. Kelly's enthusiasm is infectious and her aim is to help support mums through change.
I've decided it was time for a fresh start and I've bought new underwear,
pyjamas
, bed linen, duvet & pillows, a new bed (should arrive on Wednesday this week!) and I've also painted my bedroom with the help of my little sister,
@the_grey_house
. What colour did I paint it I hear you ask....
grey
of course!!
I'm also in the process of compiling a
35 at 35 list
(I'm 30 next week, so a 30 at 30 list was not going to work!!) and hopefully this is a list of goals that I can realistically achieve over the next 5 years. Some of them are simple, and I've already started one of them (redecorate my bedroom) and others are longer term (be genuinely happy; be comfortable & confident with my appearance...). I'll post the full list on my blog once I get it finished. I've just got 27 items just now so need to get my thinking cap on for the final 8!
I'm not clued up on all the blogging networks that are around... I'm sure I've signed up for a few but I'm going to try and make the effort to participate more.
That's all for now... time for me to get to bed! It's been a long and emotional week.
Night all.... keep on grooving!!