Just a very short post today as part of
Kate on Thin Ice's Grooving Mums
blog hop.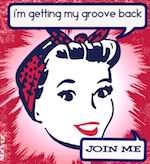 I've been realising that I can't do it all... It's a lot harder as a single mummy than I thought it was going to be. I can cope the majority of the time, but when the kiddies are poorly, teething, I'm under the weather myself and sleep deprivation is thrown into the mix too - it's all just been a bit much for me. I've been trying to do it all, but I can't keep up.
My healthy eating & fitness plan has not been going well... I've been eating far too many cakes and been having too many glasses of wine & cocktails! I'm also now at work 3 days a week sat at a desk, so I'm not as active as I was previously. As a result of all this I've put on half a stone, which is really disappointing. I was very happy with my weight and I had been maintaining it easily, but now it's slowly creeping up. However, at least I recognise this and I'm well underway to getting back into a good routine. I went for a run yesterday morning (only 5K but I recorded a new personal best) and this evening
Becky
& I went to the gym for a Body Pump class. Becky also very kindly made me a delicious healthy
homemade soup
after our class... yum yum!
On the social front I've been out to a few parties... a work night out, a friend's 40th birthday bash and more recently my
sister
was here visiting this weekend so we had a lovely girly night out with some friends... Dinner, cocktails & dancing and lots & lots of laughter... My confidence is starting to improve too.
Me & my sis :-)
I've also been managing some pampering me-time. Today I bought myself a lovely new nail polish, sort of a coral colour, and spent some time doing my nails. This will hopefully allow me to tick off another of my items on my 35 at 35 list...