I'm linking up again with Kate on Thin Ice for her weekly blog hop, Grooving Mums.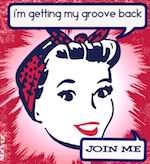 I have been involved with Groovy Mums from the start, way back in September last year when I shared the first of my before and after photographs from my weight loss & healthy eating regimen. I am extremely proud of myself as I'm managed to maintain the weight loss that I achieved, all through the horrible, cold winter when the amount of exercise I did reduced dramatically... through the unhealthy eating over Christmas and New Year and even through the stress of everything else that was happening to me at the time.
I've slowed down a bit these past few weeks and instead of running around trying to do it all, I've been letting the laundry build up, I've been leaving the tidying up and I've actually enjoyed putting my feet up. I have started reading some more (working my way through Eat Pray Love just now) and I've been getting back into ER (I'm rather liking Luka Kovac!).
My new mug - Happiness is a cup of tea & a new magazine (& a bar of chocolate!)
My exercise has stepped up a gear as I'm now 8 weeks away from my half marathon attempt. We've already raised a whopping £2500 for Macmillan Cancer Support! I'm getting back into the running, especially as the weather has improved somewhat and the lighter evenings are also making it easier as I was too scared to run on my own in the dark!
I'm also enjoying the children more. I've been reluctant to go places myself... in case toddler has a tantrum or something... and I have been telling myself that I can't deal with both my son & daughter at the same time on my own. However, we went out for lunch just the three of us for Mother's Day to a local cafe and it all worked out ok. Yes, there are times when my poor daughter gets abandoned as I run after the toddler, or we have to leave somewhere with my son kicking & screaming because it's not what he wants to do... but all in all, things are actually getting easier *touch wood*.
Making lots of mess whilst daughter learns to feed herself!
Having fun painting!
Each week there are optional Grooving Mums challenges. Here are the ones for this week:
1. Body – Are you looking after yourself enough? I am aware that I am really neglecting taking steps to deal with my pre-menstrual tension. I am sure lots of mums have stuff that they really should do to care for themselves better.
I need to seriously start to look after myself. I need to listen to my body more and rest when I get the chance. Life is busy... I'm back at work and feel like I'm rushing around a lot. The weeks are flying by and I don't think I'm appreciating life and just being present in the moment. I'm spending too much time reliving the past and worrying about the future. I have to work on this...
2. Mind – What are your current thoughts and feelings about the Groovy Mums blog hop and/or the Twitter party. Blog about it or leave a comment. I sense we are moving into a new era with new participants and want to ensure we keep on a track that is still positive for people.
I was disappointed not to make the Twitter party, but I was at work and unable to join in unfortunately. I hear through the grapevine though that #groovymums was trending... well done Kate!
I have really enjoyed participating in the blog hop thus far and I plan to continue my involvement, although it might be a bit sporadic.
I want to apologise to the other groovy mums for not being as supportive as I should have been lately... I've been so busy that I've not been commenting on blogs or even keeping up with my weekly posts. I was so motivated at the start and more lately I've been struggling to keep up.
3. Spirit – Do people find the spirit challenges helpful? They are quite hard to come up with and I am aware that some find them uncomfy particularly if they do not have a faith. What do you think?
I'm not particularly spiritual, so yes, I'd say I do find these challenges more difficult and I don't know that I'm always able to answer them. They are normally very thought provoking though...
4. Blogging – Please do take a look at the Brilliance in Blogging Awards shortlist over on Britmums. I found it lovely to discover blogs that I did not know about. We can all learn from and with each other.
I will do :-)
I have checked out the website and have tweeted about the appeal. It's a Marie Curie charity shop that I hand in all my old clothes, home ware and other bits & bobs but I haven't been in this month so I wasn't really aware of the appeal.
When my children sleep through I sleep brilliantly! My toddler has been having nightmares and waking up screaming on the occasional night, and my daughter is teething or has also been ill recently so unfortunately I've not been sleeping great. I'm finding it very tiring being up during the night and then having to go to work the next day.
7. The Big Question – Why do you set limits for yourself? Are you setting them too low? I ask this as over the last 6 months I have realised that when I start to reach out, good things come my way. That can happen for you too.