This is a post for
Kate on Thin Ice's Grooving Mums
blog hop...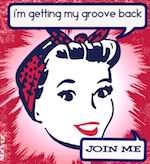 Like my good friend
Becky
, I do love to read. However with the kiddies, being back at work, my DIY efforts, running etc I rarely have time to finish a book (I will get around to reading the huge pile you let me borrow
Becky
... may just take me a while!). My favourite genre would have to be a tear-inducing autobiography or on the total opposite end of the scale - some
chick lit
!
I think you can learn a lot about a person by the book's they choose to read. Thankfully the checkout assistant at Waterstone's didn't comment when I purchased all of these (I may have burst into tears if she had!)... I'm not normally one for venturing into the self help aisle, but I thought I might get some words of wisdom from these novels:
'Secrets About Life Every Woman Should Know' by Barbara de Angelis
(a recommendation by Catherine,
@theroomset
over at
Making It As Mum
). I'm only on page 20, but I already love it.
'Eat Pray Love' by Elizabeth Gilbert
'You Can Heal Your Life' by Louise Hay
(a recommendation by Kelly Menzies,
Healing Mum
)
'Just Get On With It' by Ali Campbell - the tagline for this book says it is a 'caring, compassionate kick up the ass!' Just what I need.
Lonely Planet's The Kindness of Strangers
I've also signed up for a Psychologies subscription using my Tesco clubcard vouchers.
What are you reading right now?
Sx