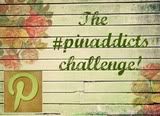 I am so excited to be taking part in The Pinaddicts Challenge with Kerry, @thelovebump. Check out the rules
here
.
I was going to share the dress that I made for my daughter which some of you may have seen on my Twitter feed, but it wasn't from any of my Pinterest boards and I need a bit longer to do a tutorial for it... so watch this space.
In the meantime, I thought I would share two of the Valentine's craft projects I've done with my toddler.
The first is the Valentine's cards that we've made for his little chums.
I spotted on
Pinterest
that you could shape a toilet roll into a heart to make a heart stamp - what a novel idea!
So my toddler and I set about making some Valentine's cards using this technique... Here he is in action!
Toddler, still in PJs! What a mess we made!!!
Our kitchen roll 'heart stamp' and heart stamp that I cut from an old sponge
The finished cards! Yay! (we added glitter heart stickers which I got from Baker Ross)
We've also made some little favour bags for his nursery friends which we filled with Starburst sweets and I made a personalised tag to seal the bag.
And here's our version... I've blurred out my son's name which I put in the balloon shape and it reads "I'm bursting with happiness that you're my friend, Love XX" and on the reverse I put "Happy Valentine's Day". In retrospect I should have glued the tag but I was lazy and used my stapler which perhaps doesn't look as good.
You can follow me on Pinterest
here
.