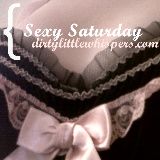 Joining in again this week with Dirty Little Whispers for her Sexy Saturday blog hop thing...
I'm currently getting ready for a wee night out with the girls, and after the success my friend
Becky
had with false eyelashes at the
Scottish Fashion Awards
a while back, I decided to do the same. They are definitely making me feel sexy...! :-)
Decided to share a pic, but bear in mind I'm still getting ready so my hair isn't finished yet, and ignore the mess in the background!
Right, must dash - lots still to do and I'm supposed to be at their flat at 8pm!