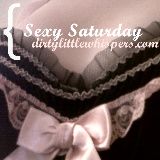 Here's the gist from Little Miss:
"Sexy Saturday is all about feeling sexy!
Wear your sexiest clothes/lingerie whichever you prefer and flaunt yourselves. Feel proud of your bodies, your wibbly wobbly bits and those crazy curves!
Bear all and feel great about yourselves, you don't have to be naked, show us your most flattering outfits or if you dare to bare then go for it
Just post a photo of you feeling your sexiest every Saturday. It can even be you in your marigolds

Or you can simply just let us know what made you feel sexy this week! A compliment from a stranger, cheeky smile at your best assets, or a new figure!"
At this current time, I'm still in my pyjamas (weather miserable so kiddies and I are having a lazy day!), but I thought I'd share a photograph of me from the Scottish Fashion Awards that I went to on Monday night this week at the SECC.
I went along with good friends Becky and Laura, who have both written about the event, so I'll just refer you over to their posts here and here for more info & pics!
I had such a fun evening - getting all dressed up, the awards themselves and then cocktails afterwards at Blythswood Square Hotel. Thanks girls for a brilliant night x
Laura, Becky & myself
And again in reverse order!