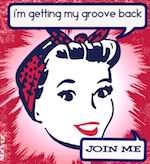 Yep, that's right... I'm getting my groove back with
Kate on Thin Ice
(trying to be more positive!).
Here are the challenges this week:
1. Body – Best Foot Forward
How are your feet? Would you happily publish a photo of them on your blog or could they do with a little care and attention? What could you do to treat your feet this week?
I ran 11 miles last week... yes, eleven!!! I just wanted to share that fact with you all as I'm so proud of myself. I'm on track for the half marathon, which is in a week - yikes!
Yes, I'd happily post a photograph of my feet... I bought myself a new pair of wedge sandals online yesterday so perhaps I will post a photograph of me wearing them when they arrive!
2. Mind – New Words
I want you to find 3 new words this week and hopefully ones that mean something to you.
I will keep my eyes and ears open for some new words... watch this space.
3. Spirit – I always struggle to come up with a challenge for this one so if anyone has any ideas on how to move this one forwards, let me know.
I always find the Spirit challenges difficult, so no inspiration here - sorry. Could possibly make the change from 'Spirit' to 'Inspire' and the Groovy Mums could share quotes, words, photographs, achievements etc?
4. Blogging – I am inviting you to get behind my new blog hop type thing which will take place on Fridays. It is called Savvy Online Shoppers (SOS) It is all about celebrating the things we buy online from the mundane to presents to the spectacular. Come back here on Friday and find out more.
I do love to shop (as you all know!)... will definitely check out Savvy Online Shoppers - yay!
5. Charity Connections – It is #charitytuesday so BritMums are asking people to blog about their charity shop finds and experiences. If you write a blog, tweet @BritMums to let them know and they will promote the post for you to their thousands of followers.
I also urge you to read these two posts and to take action. I am really disappointed at the numbers signing up to my #mums4good campaign so any help will be appreciated. Do click on the #mums4good on the sidebar and find out more. Discovering what it is all about will only take a few minutes of your time .
6. Special Days – Think about an important day for you that is coming up. It might be a birthday, an anniversary, a day off from work/home or a holiday. Commit now to making it really special for YOU. How will you do that?
I am going to take a day off work at the end of May (I hope - not asked the boss yet!) to make up for the extra day I worked today. I will be taking a day off when the children are at nursery, and I am going to give myself permission to be selfish and I plan to relax - maybe treat myself to lunch in a cafe, or perhaps a massage! This day off will also be post-half marathon, so even more of a reason to relax!
7. Twitter Party – All mums and mum-friendly employers and businesses are invited to the #groovywork Twitter party tomorrow Wednesday 16th May from7-8pm. If you have never attended a Twitter party before, fear now. Just be on Twitter between 7pm and 8pm (you don't have to be there all the time) and use hashtag #groovywork as we chat about all things work-related for mums.
Sorry, I missed the party - not sure how I managed that... oops.