This week has been a bit of a failure for #groovingmums with
Kate on Thin Ice
. I've not had the time to attempt the
challenges
which I'm slightly annoyed at. I can't believe that tomorrow is December already.... where has the time gone!?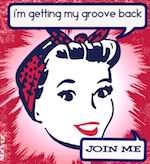 Despite not doing the challenges, I have been busy (when am I not?!).
The DIY is
still
ongoing. I
will
finish it in time for Christmas! I've picked up some new bathroom fittings from the supermarket (I had looked on eBay for a bargain to allow me to join in with
Magpie Monday
but couldn't find anything I liked).
I had also planned a trip to the local charity shops but the weather has been so miserable that I've not wanted to go! I'm taking part in the
Christmas Curiosity Project
so I need to get going and get my box posted - I've been collecting bits and pieces for the curious person I've been assigned and had hoped to get a few more things from the charity shop. (Bit annoyed as I can't find one of the things I had already looked out, so I'll need to do some searching today in the house to find it again - my son has probably moved it!!). I'm so excited about receiving my box :-)
I went to running club and this week I ran 8.66 miles.... in the wind & rain too! I was also at my weekly Pilates class.
I had a weigh in with my personal trainer and my body fat percentage is now down to 25%!!!!! It was
39%
when I started, so I'm giving myself a big pat on the back. Go me!
I've also had a couple of successes in terms of my blogging.... I was mentioned in the
Scottish Roundup
, the best of Scottish blogging every week, and I also had an excerpt of my blog about #groovingmums published on the
Love New Blogs
weekly showcase. Yay!
Here are this week's prompts or challenges if you will.
1. How is your health? Is there a niggling problem that you are avoiding bringing to the attention of your GP? Are you up to date with your smear test and other matters? How can you ensure that you are in tip-top form before the stress of Christmas hits?
2. What does the concept of freedom mean to you? Do you have enough or do you sometimes feel hemmed in with your various responsiblities? When are you cut a bit of slack by your family, friends and colleagues?
3. Laughter Therapy – Can you do something this week that will make you laugh out loud? Perhaps see a funny film, write an amusing blog post or visit a comedy show? Maybe just share a joke with us.
4. Blog Hopping – One good way to make new blogger contacts is via blog hopping. How about taking part in one of the Britmums prompts this week? One is related to the festive season and one is about blogging in the New Year. Visit the Britmums site for more details. http://www.britmumsblog.com/2011/11/britmums-blog-prompt-christmas-wishes/
I have already e-mailed my gastroenterology consultant to arrange an appointment. My Crohn's symptoms seem to be getting a little worse and I want to get this under control before returning to work in January... I'm thinking of asking the in-laws to take the kiddies so I can have a day to myself to relax, have a nice lunch in local cafe, browse the local shops etc and have some precious me-time as there won't be much of it once I get back to work!